GAME VIDEO/ART. A SURVEY RECOMMENDS:
MACHINIMA! TEORIE. PRATICHE. DIALOGHI, A COMPELLING COLLECTION OF ESSAYS PUBLISHED IN 2013 BY EDIZIONI UNICOPLI IN ITALY FEATURING CONTRIBUTIONS BY HENRY LOWOOD, MIZUKO ITO, HUGH HANCOCK, KARI KRAUS, EDDO STERN, MARQUE CORNBLATT, AND MANY MORE.
The book was edited by MATTEO BITTANTI and HENRY LOWOOD. Matteo Bittanti is the director of GAME/PLAY. DESIGN, DIRECTION & PRODUCTION Master's at IULM University where he also teaches a course in Media Studies. Lowood is Curator for History of Science and Technology and for Film and Media collections at Stanford University. Lowood launched the HOW THEY GOT GAME initiative at Stanford in 2000.
BOOK DESCRIPTION
"Machinima! Teorie. Pratiche. Dialoghi illumina uno dei fenomeni di ibridazione mediale più interessanti degli ultimi vent'anni. Contrazione di machine e animation, il machinima si colloca all'intersezione tra videogioco e cinema, animazione elettronica e performance in tempo reale nei mondi virtuali. Opera derivata ma inaspettata, il machinima ha introdotto una nuova estetica, ma soprattutto, un nuovo modo di giocare con l'immagine. La sua storia è contraddistinta da innovazioni e imprevisti, alterazioni e alterchi, hacking e modding. Il volume si articola in tre sezioni. Le prima, Teorie, inquadra il fenomeno sul piano concettuale, storico e legislativo, illuminando testi e contesti produttivi, distributivi, giuridici e commerciali. La seconda, Pratiche, presenta i contributi di artisti e registi, producer e performer che hanno definito la natura del medium. Infine, Dialoghi propone conversazioni su temi che spaziano dall'arte al mercato, dal disimpegno ludico all'attivismo politico. Il carattere interdisciplinare e l'eterogeneità degli approcci rendono "Machinima!" uno strumento ideale per comprendere le trasformazioni dei media e dell'arte contemporanea nell'era digitale."
TABLE OF CONTENTS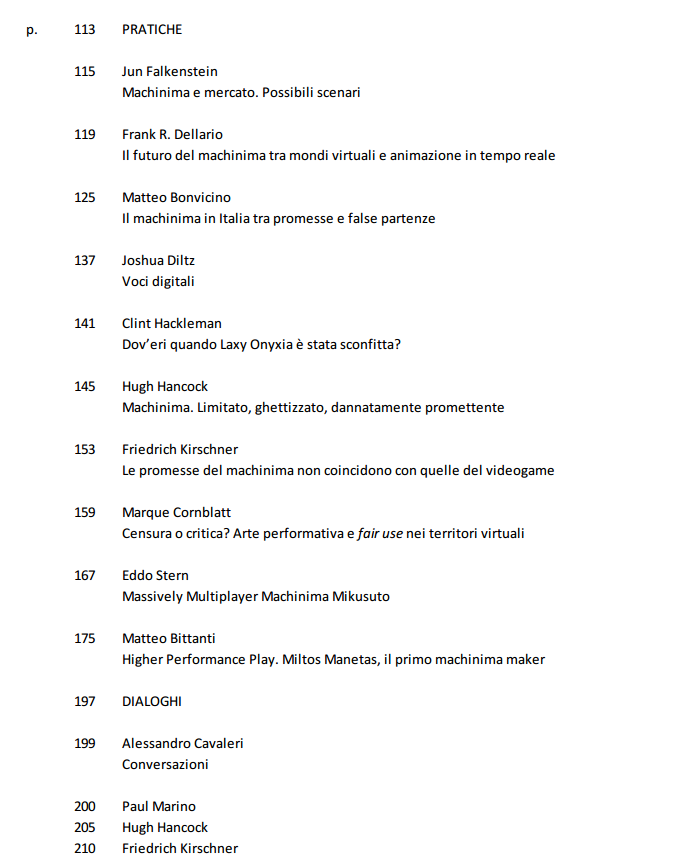 The book is part of the ongoing LUDOLOGICA book series edited by MATTEO BITTANTI and GIANNI CANOVA.