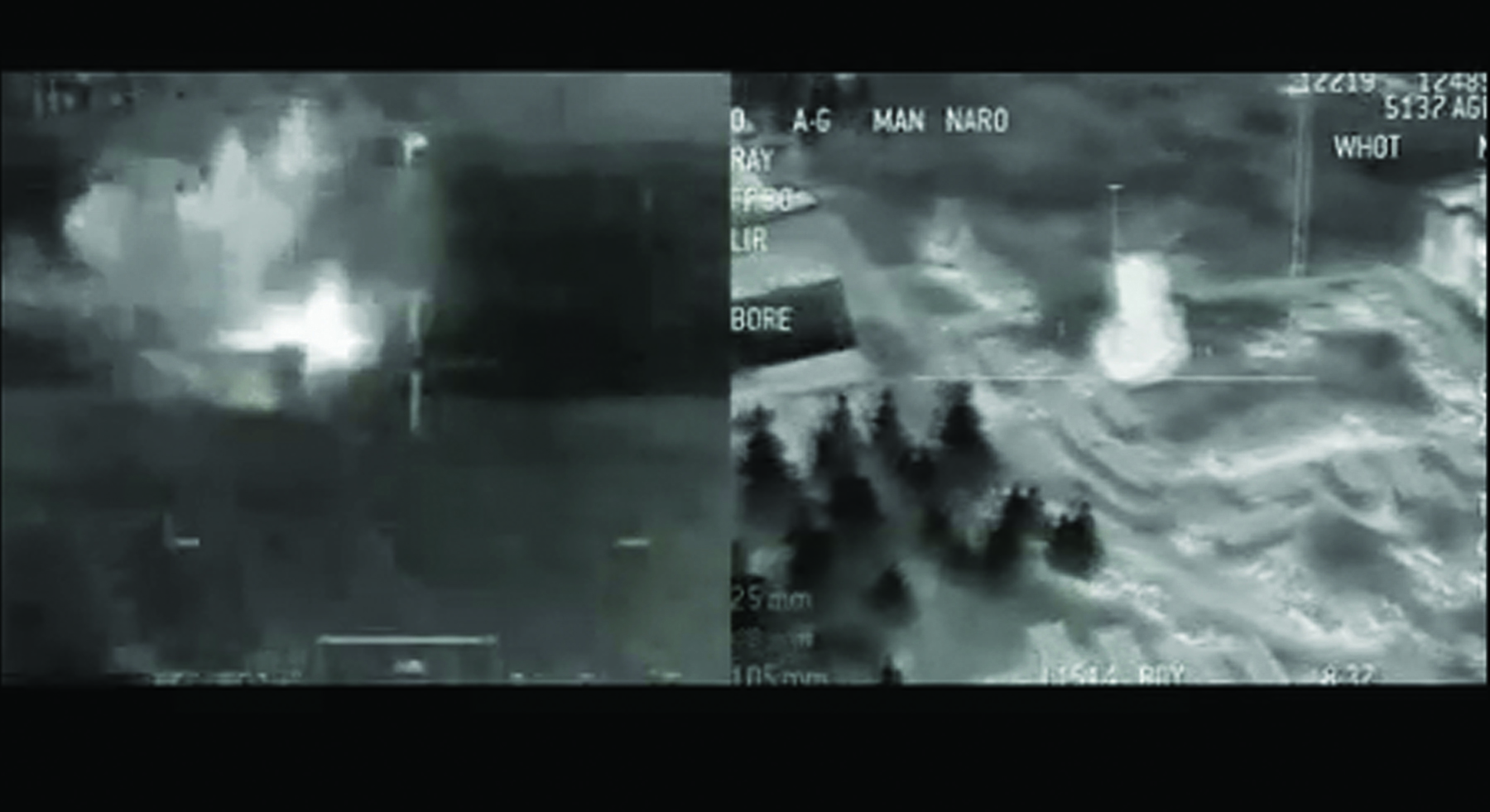 Post Newtonianism (War Footage/Call of Duty 4 Modern Warfare) (2010)
Digital video, sound, color, 5' 32"
Affiancando alcune sequenze riprese da un elicottero americano durante la seconda Guerra del Golfo al gameplay del popolare videogioco Call of Duty: Modern Warfare, l'artista s'interroga sulla funzione dell'immagine nell'era della simulazione.
Juxtaposing a video shot by US soldiers on an helicopter during the Second Gulf War to gameplay footage of the popular first-person shooter Call of Duty: Modern Warfare, the artist investigates the nature of images in the age of simulation.
JOSH BRICKER (U.S.A.)
Josh Bricker (b. 1980, USA) is a multidisciplinary visual artist based in Los Angeles, California. After graduating from Parsons School of Design in New York with an MFA in Studio Art, he moved to California. He currently teaches at Long Beach City College. As a multidisciplinary artist, his practice is distributed across different media, including video, photography, collage, drawing, painting, and sculpture. Bricker uses formal strategies of appropriation and détournement to investigate the social ramifications of a world inundated by images. Central in his work is the convergence between simulacrum and reality produced by the military-industrial-media-entertainment complex. In exploring grey area between propaganda, indoctrination, nationalism, play, "fun", and ideology, Bricker repurposes mundane cultural artifacts: toys, video games, video, found objects, and photography. Situated within this ideological framework, his videos and praxes can be seen as a meditation on cultural poaching. His work Post-Newtonianism was selected for the 2012 Guggenheim Web Biennial.
Nato nel 1980 negli Stati Uniti, Josh Bricker è un artista visivo interdisciplinare che vive e lavora a Los Angeles, California. Dopo aver ottenuto un MFA in Studio Art, presso la Parsons School of Design di New York, Bricker si è trasferito sulla West Coast. Attualmente insegna al Long Beach City College. La pratica di Bricker prevede il ricorso a differenti media, tra cui video, fotografia, collage, disegno, pittura e scultura. L'artista utilizza strategie formali di appropriazione e détournement per studiare le ramificazioni sociali della visual culture contemporanea, nonché la (con)fusione tra simulacro e realtà promossa dall'industria del divertimento, dalle corporation, dai mezzi di informazione e dall'esercito. Operando nella zona grigia che separa la propaganda dall'indottrinamento, il nazionalismo dal gioco, il "divertimento" dall'ideologia, Bricker riconfigura oggetti d'uso quotidiano - giocattoli, videogiochi, readymade e fotografie - per creare situazioni nuove e inaspettate. In questa cornice ideologica, la sua prassi può essere considerata un esercizio di bracconaggio culturale. La video installazione Post-Newtonianism è stata inclusa nell'edizione 2012 della Web Biennial del Guggenheim Museum.

 
INTERVIEW
Watch an exclusive interview with the artist